SECOND & FOURTH
MONDAYS OF
EACH MONTH

7:00 to 9:00 pm

"MUSIC MONDAYS"

NICOLE PASTERNAK
with
MICHAEL COPPOLA
9-String Guitar

323 MAIN RESTAURANT
323 Main Street
Westport, CT 06880
203-222-0323


We can escape to tomorrow's dreams,
Open our hearts till we burst the seams,
Stars laughing brightly above;
Oh, what a winter; oh, what a love!

— From Full Moon Over Elmhurst
NICOLE PASTERNAK

"IN A WORD"

Featuring Don Friedman, piano; Dennis Irwin, bass
and Special Guest Ralph Lalama, tenor saxophone.

"A truly personable trio backing an enchanting voice." - Thomas Staudter

REMEMBER - IMAGINATION - L-O-V-E - IMPOSSIBLE - YESTERDAYS
DREAMER - DREAM - WONDERFUL - YOU - ME - FOUR - INCHWORM - SMILE - PEOPLE

Produced by Ralph Lalama

Read a review from AllAboutJazz.com



Available on i-Tunes.
Check out sound samples,
place your secure order, and enjoy
the satisfaction of supporting independent music!
Click on the buttons below the CD images.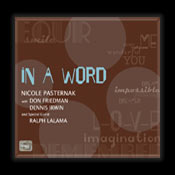 In A Word
| | |
| --- | --- |
| Don't Go, Don't Leave, Please Stay | Paris/Rio Express (With Charles Haynes) |
Pasternak's recordings include "Winter Samba" (1987), an album of original work and "Nicole/The Song Is You" (1989), a CD for Cexton Records. She is featured on a recording by musician, composer and arranger Charles Haynes, "Paris/Rio Express" (1996) that demonstrates her range from improviser to chanteuse and debuts her lyrics to Django Reinhardt's "Nuages." On her CD, "Don't Go, Don't Leave, Please Stay" (1998), she teams up with the Alan Simon Trio and tenor saxophonist Ralph Lalama of the famed Vanguard Jazz Orchestra.